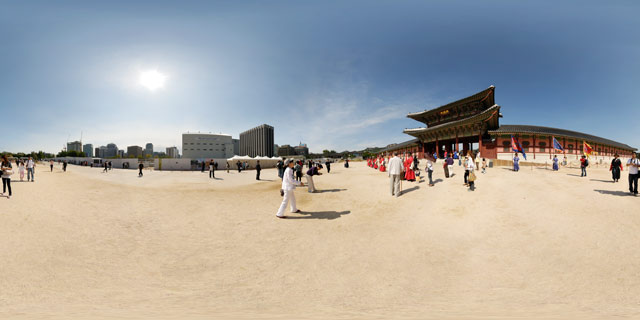 Click button below to view 360° VR interactive panorama
SD Standard definition suitable for users with slow internet connections or mobile devices or HD High definition suitable for users with fast internet connections
360° VR panorama outside Heungnyemun Gate in Gyeongbokgung Palace, Seoul, South Korea.
Heungnyemun Gate (흥례문) was originally built in 1426, but was then named Hongnyemun Gate (弘禮門). When it was rebuilt in 1867 during the regency of Daewongun, it was renamed to Heungnyemun ( 興禮門) as Hongli (弘曆) was the name of the Chinese Qing dynasty Qianlong Emperor.
Under the Japanese occupation of Korea, Heungnyemun Gate, along with the majority of other buildings that formed Gyeongbokgung, was demolished. The Japanese General Government Building (조선총독부 청사) was built over the spot where the gate had formerly stood, with construction starting in 1916 and being completed in 1926.
In 1989 the Korean Government started an initiative to rebuild the important structures that had been destroyed during the Japanese occupation. As part of this, the Japanese General Government Building was demolished in 1995, and work began on reconstruction of Heungnyemun.
From Wikipedia:
Gyeongbokgung, also known as Gyeongbokgung Palace or Gyeongbok Palace, is a royal palace located in northern Seoul, South Korea. First constructed in 1394 and reconstructed in 1867, it was the main and largest palace of the Five Grand Palaces built by the Joseon Dynasty. The name of the palace, Gyeongbokgung, translates in English as "Palace Greatly Blessed by Heaven."

Heavily destroyed by the Japanese government in the early 20th century, the palace complex is slowly being restored to its original form prior the destruction. As of 2009, roughly 40 percent of the original number of palace buildings still stand or are being reconstructed.