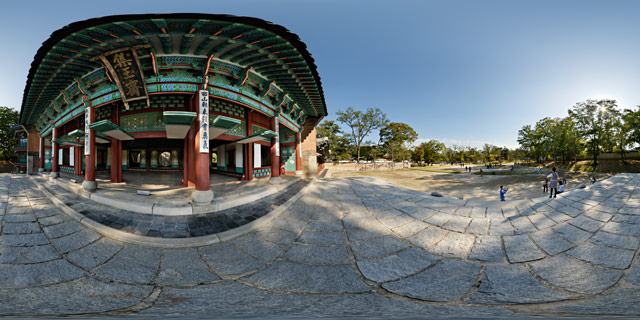 Click button below to view 360° VR interactive panorama
SD Standard definition suitable for users with slow internet connections or mobile devices or HD High definition suitable for users with fast internet connections
360° VR panorama outside Jibokjae Royal Library in Gyeongbokgung Palace, Seoul, South Korea.
From Wikipedia:
Gyeongbokgung, also known as Gyeongbokgung Palace or Gyeongbok Palace, is a royal palace located in northern Seoul, South Korea. First constructed in 1394 and reconstructed in 1867, it was the main and largest palace of the Five Grand Palaces built by the Joseon Dynasty. The name of the palace, Gyeongbokgung, translates in English as "Palace Greatly Blessed by Heaven."

Heavily destroyed by the Japanese government in the early 20th century, the palace complex is slowly being restored to its original form prior the destruction. As of 2009, roughly 40 percent of the original number of palace buildings still stand or are being reconstructed.

Jibokjae (Hangul: 집옥재; Hanja: 集玉齋), located next to Geoncheonggung Residence, is a two-story private library used by King Gojong. In 1876, a major fire occurred in Gyeongbokgung Palace, and King Gojong, for a brief period, moved and resided in Changdeokgung Palace instead. He eventually moved back to Gyeongbokgung in 1888, and he had the already-existing Jibokjae building dissembled and moved from Changdeokgung to the present location in 1891. Its name, Jibokjae, translates loosely in English as "Hall of Collecting Jade."

The building uniquely shows heavy influence of Chinese architecture instead of traditional Korean palace architecture. Its side walls were entirely constructed of brick, a method commonly employed by the contemporary Chinese, and its roof design, interior screens, and columns also show Chinese influence. Its architecture possibly was meant to give it an exotic appearance.
Jibokjae is flanked by Parujeong (Hangul: 팔우정; Hanja: 八隅亭), an octagonal two-story pavilion, to the left and Hyeopgildang (Hangul: 협길당; Hanja: 協吉堂) to the right. Parujeong was constructed and used to store books, while Hyeopgildang served as a part of Jibokjae. Both of the buildings are connected to Jibokjae by internal corridors.

Bohyeondang (Hangul: 보현당; Hanja: 寶賢堂) and Gahoejeong (Hangul: 가회정; Hanja: 嘉會亭), buildings that also formed a library complex to the south of Jibokjae, were demolished by the Japanese government in the early 20th century.