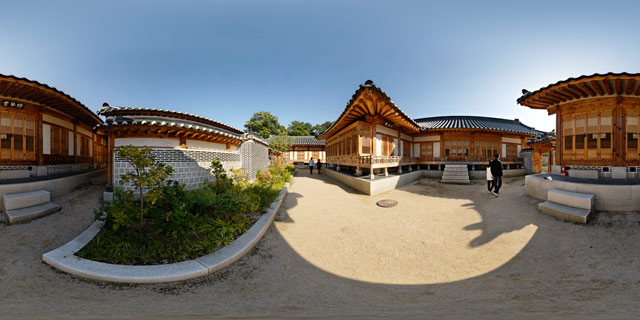 Click button below to view 360° VR interactive panorama
SD Standard definition suitable for users with slow internet connections or mobile devices or HD High definition suitable for users with fast internet connections
360° VR panorama of Jeongsihap and Nokgeumdang, two buildings forming part of the Geoncheonggung Residential Palace in Gyeongbokgung Palace, Seoul, South Korea.
Gyeongbokgung, also known as Gyeongbokgung Palace or Gyeongbok Palace, is a royal palace located in northern Seoul, South Korea. First constructed in 1394 and reconstructed in 1867, it was the main and largest palace of the Five Grand Palaces built by the Joseon Dynasty. The name of the palace, Gyeongbokgung, translates in English as "Palace Greatly Blessed by Heaven."
Heavily destroyed by the Japanese government in the early 20th century, the palace complex is slowly being restored to its original form prior the destruction. As of 2009, roughly 40 percent of the original number of palace buildings still stand or are being reconstructed.
Geoncheonggung (Hangul: 건청궁; Hanja: 乾淸宮), also known as Geoncheonggung Residence, was a private royal residence built by King Gojong within the palace grounds of Gyeongbokgung in 1873.
King Gojong resided in Geoncheonggung from 1888 and the residence was continuously expanded, but Empress Myeongseong, the wife of King Gojong, was brutally assassinated by the Japanese agents on October 8, 1895 at the residence. Her body was raped and cut, and was burned and buried near the residence.
Haunted by the experiences of the incident, the king left the palace on January, 1896, and never returned to Geoncheonggung Residence. Demolished completely by the Japanese government in 1909, the residence was accurately reconstructed to its former design and open to the public in 2007.
Above description taken from Wikipedia article on Gyeongbokgung.