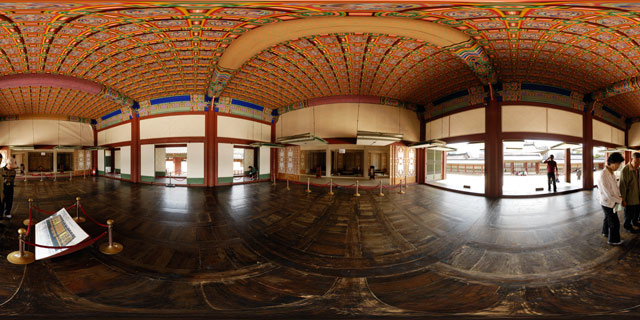 Click button below to view 360° VR interactive panorama
SD Standard definition suitable for users with slow internet connections or mobile devices or HD High definition suitable for users with fast internet connections
360° VR panorama inside Gangnyeongjeon Hall in Gyeongbokgung Palace, Seoul, South Korea.
From Wikipedia:
Gyeongbokgung, also known as Gyeongbokgung Palace or Gyeongbok Palace, is a royal palace located in northern Seoul, South Korea. First constructed in 1394 and reconstructed in 1867, it was the main and largest palace of the Five Grand Palaces built by the Joseon Dynasty. The name of the palace, Gyeongbokgung, translates in English as "Palace Greatly Blessed by Heaven."

Heavily destroyed by the Japanese government in the early 20th century, the palace complex is slowly being restored to its original form prior the destruction. As of 2009, roughly 40 percent of the original number of palace buildings still stand or are being reconstructed.

Gangnyeongjeon (Hangul: 강녕전; Hanja: 康寧殿), also called Gangnyeongjeon Hall, is a building used as the king's main sleeping and living quarters. The building contains the king's bed chamber and was first constructed in 1395, the fourth year of King Taejo. Destroyed during the Japanese invasions of Korea in 1592, the building was rebuilt when Gyeongbokgung was reconstructed in 1867, but it was again burned down by a major fire on November, 1876 and had to be restored in 1888 by the orders of King Gojong.

However, when Huijeongdang of Changdeokgung Palace was burned down by a fire in 1917, the Japanese government dismembered the building and used its construction materials to restore Huijeongdang in 1920. The current building was rebuilt in 1994, meticulously restoring Gangnyeongjeon to its original specifications and design.

Gangnyeongjeon consists of fourteen rectangular chambers, each seven chambers located to the left and right side of the building in a layout out like a checkerboard, and corridors. The king used the center chamber while the court attendants occupied the other side chambers to protect, assist, and to receive orders. The building rests on top of a tall stone foundation, and a stone deck or veranda locates in front of the building.

The noted feature of the building is an absence of a top white roof ridge called yongmaru (Hangul: 용마루) in Korean. Many theories exist to explain the absence, of which a prominent one states that since the king was symbolized as the dragon during the Joseon Dynasty, the yongmaru, which contains the letter dragon or yong (龍), cannot rest on top of the king when he is asleep.