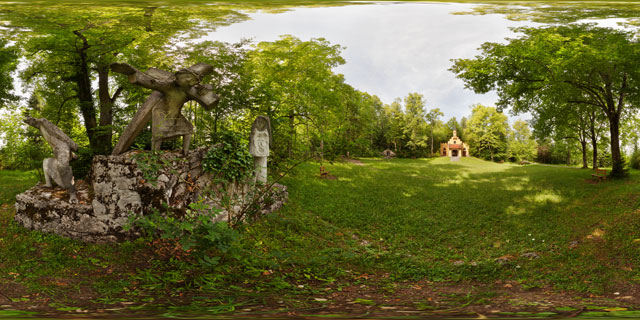 Click button below to view 360° VR interactive panorama
SD Standard definition suitable for users with slow internet connections or mobile devices or HD High definition suitable for users with fast internet connections
360° VR panorama by a crucifixion scene monument near St. Mary's Chapel on Kalvarienberg, near Füssen, Bavaria. Kalvarienberg means 'Calvary Hill' in English, it features the stations of the cross going up the hill, culminating in a reconstruction of the crucifixion of Christ at the hill's peak.
The Marienkapelle is located in a clearing part way up the mountain, and was built between 1840 and 1842. Across from the chapel is this sculpture of a crucifixion scene showing Christ carrying the cross on the centre pedestal. On the right is a sculpture of Mary with a shroud bearing an imprint of the face of Christ.