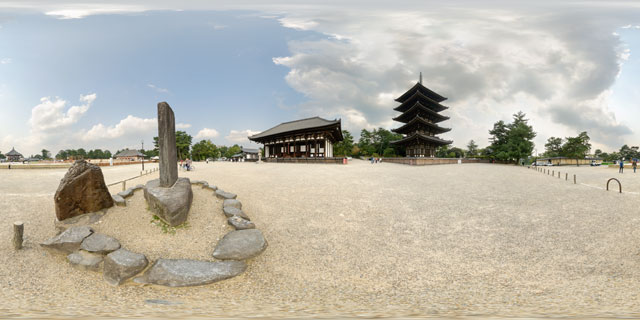 Click button below to view 360° VR interactive panorama
SD Standard definition suitable for users with slow internet connections or mobile devices or HD High definition suitable for users with fast internet connections
360° VR panorama of Kōfuku-ji (興福寺) temple in Nara, Japan. It is one of the eight Historic Monuments of Ancient Nara, which is listed on the UNESCO World Heritage List. It is also the headquarters of the Hossō school of Buddhism.
In this panorama you can see the East Golden Hall (東金堂; Tōkon-dō) built in 1425. Just to the south of the hall is the Five-storied pagoda (五重塔; gojū-no-tō), which was built in 1426 and is listed as a National Treasure of Japan. To the west is a large area where the Central Golden Hall (東金堂; Chūkon-dō) is being reconstructed.
The temple was originally founded in 669 by the wife of Fujiwara no Kamatari, in Kyoto (at the time called Yamashina). It was then moved to Fujiwara-kyō in 672 and moved again to its present location in 710. Since then the buildings have been destroyed by fire and rebuilt many times.
However, not all of the important buildings have been reconstructed. Of the three golden halls there is only one currently rebuilt, while another is still under construction. The nandaimon, chūmon, and corridor have not been reconstructed, and are currently missing from the temple.