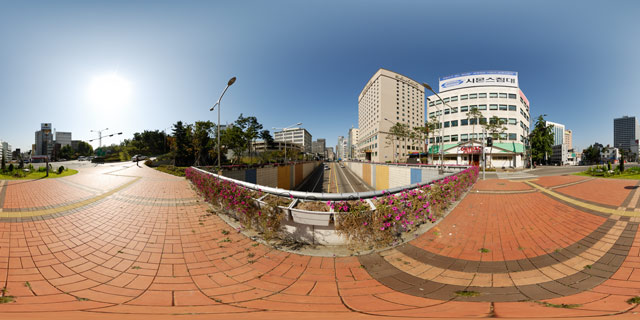 Click button below to view 360° VR interactive panorama
SD Standard definition suitable for users with slow internet connections or mobile devices or HD High definition suitable for users with fast internet connections
360° VR pano from the bridge where Samil-ro (삼일) crosses over Chungmuro 2(i)-ga (충무로2가), in Jung-gu (중구), Seoul (서울).
Around this area can be seen the Sejong Hotel (세종호텔), Outback Steakhouse restaurant, Dominos Pizza, Kukdong Building (극동 빌딩), Huengkook Building (훙국빌딩) – home to Kiswel Co. Ltd, and the Hotel Prince (서울프린스호텔).
From Wikipedia:
Chungmuro refers to a road 1.75km in length and 10∼20m in width and the area nearby the street, located in Jung-gu, central Seoul of South Korea. Since 1960s, Chungmuro has been known as the street of culture, artists, and film industry. Dansungsa, the first movie theaters of Korea is also situated in the area. Since the establishment in 1907, the theater has been in today near Jongno 3-ga Station. Chungmuro was named after Chungmugong, the posthumous title of Korean Admiral Yi Sun-shin, which means "martial subject of loyalty." The last syllable "ro" refers to road in Korean.

Nowadays many film studios moved from Chungmuro to the Gangnam district, Chungmuro still symbolizes the Korean film industry.