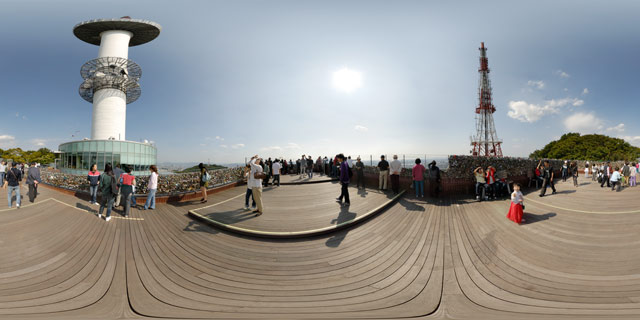 Click button below to view 360° VR interactive panorama
SD Standard definition suitable for users with slow internet connections or mobile devices or HD High definition suitable for users with fast internet connections
360° VR panorama of the viewing platform outside the N Seoul Tower (엔 서울타워) at the top of Mount Namsan (남산) in Seoul (서울), South Korea (대한민국). From here you can also see the smaller communications tower.
The N Seoul Tower was built in 1969, and was first opened to the public on October 15, 1980. The tower was remodelled in 2005, at a cost of ₩15 billion. Upon re-opening in December 2005, the tower was given its current name 'N Seoul Tower', with the 'N' standing for 'New'. Previously it was known as just the Seoul Tower or Namsan Tower.
The fence around the viewing platform is covered in locks, known as the 'Locks of Love'. The idea is that lovers buy a lock each, they then lock their locks together (and to the fence), to symbolize their love for each other, that they will stay together.
From Wikipedia:
N Seoul Tower is a communication and observation tower located in Namsan Mountain, central Seoul, South Korea. Built in 1969, and opened to the public in 1980, the tower has been a symbol of Seoul and measures 236.7 m (777 ft) in height (from the base) and tops out at 479.7 m (1,574 ft) above sea level. It has also been known as the Namsan Tower or Seoul Tower. After the tower's original owner merged with the CJ Corporation, it was renamed the N Seoul Tower (official name CJ Seoul Tower).

Many visitors ride the Namsan cable car up the mountain, and then walk to the tower. The tower features a gift shop and restaurants on the ground floor. Visitors may go up the tower for a fee. There are four observation decks (the 4th observation deck, which is the revolving restaurant, rotates at a rate of one revolution every 48 minutes), as well as gift shops and two restaurants. Most of the city of Seoul can be seen from the top. Close to N Seoul Tower is a second lattice transmission tower.