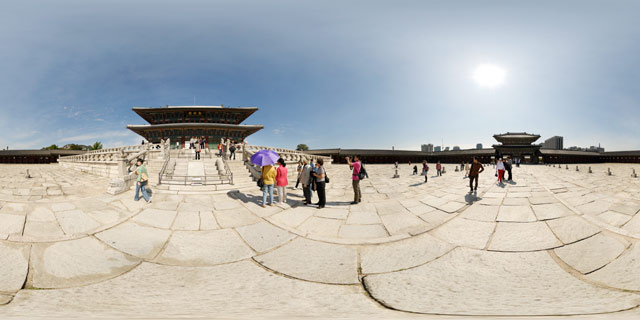 Click button below to view 360° VR interactive panorama
SD Standard definition suitable for users with slow internet connections or mobile devices or HD High definition suitable for users with fast internet connections
360° VR panorama in front of Geunjeongjeon Hall in Gyeongbokgung Palace, Seoul, South Korea.
Gyeongbokgung, also known as Gyeongbokgung Palace or Gyeongbok Palace, is a royal palace located in northern Seoul, South Korea. First constructed in 1394 and reconstructed in 1867, it was the main and largest palace of the Five Grand Palaces built by the Joseon Dynasty. The name of the palace, Gyeongbokgung, translates in English as "Palace Greatly Blessed by Heaven."
Heavily destroyed by the Japanese government in the early 20th century, the palace complex is slowly being restored to its original form prior the destruction. As of 2009, roughly 40 percent of the original number of palace buildings still stand or are being reconstructed.
Geunjeongjeon (Hangul: 근정전; Hanja: 勤政殿), also known as Geunjeongjeon Hall, is the throne hall of Gyeongbokgung where the king formally granted audiences to his officials, gave declarations of national importance, and greeted foreign envoys and ambassadors during the Joseon Dynasty. The building was designated as Korea's National Treasure No. 223 on January 8, 1985.
Geunjeongjeon was originally constructed in 1395 during the reign of King Taejo, but was burned down in 1592 when the Japanese invaded Korea. The present building was built in 1867 when Gyeongbokgung was being reconstructed. The name Geunjeongjeon, created by the minister Jeong Dojeon, means "diligence helps governance."
Constructed mainly of wood, Geunjeongjeon sits on the center of a large rectangular courtyard, on top of a two-tiered stone platform. This two-tiered platform is lined with detailed balustrades and is decorated with numerous sculptures depicting imaginary and real animals, such as dragons and phoenixes. The stone-paved courtyard is lined with two rows of rank stones, called pumgyeseoks (Hangul: 품계석; Hanja: 品階石), indicating where the court officials are to stand according to their rank, and is surrounded by wooden cloisters.
Geunjeongmun (Hangul: 근정문; Hanja: 勤政門), aligned and located directly to the south of Geunjeongjeon, is the main gate to the courtyard and to Geunjeongjeon. The gate is divided into three separate aisles and only the king was allowed to walk through the center.
Above description taken from Wikipedia article on Gyeongbokgung.