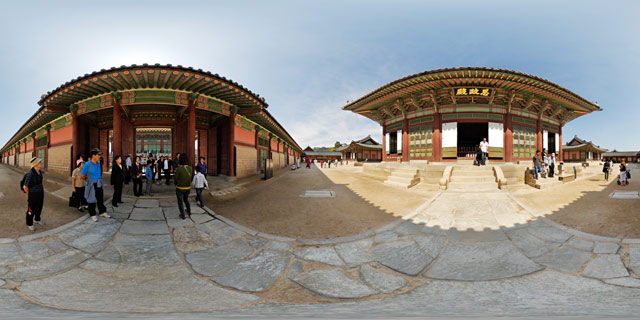 Click button below to view 360° VR interactive panorama
SD Standard definition suitable for users with slow internet connections or mobile devices or HD High definition suitable for users with fast internet connections
360° VR panorama between Sajeongjeon Hall and Sajeongmun Gate in Gyeongbokgung Palace, Seoul, South Korea.
Gyeongbokgung, also known as Gyeongbokgung Palace or Gyeongbok Palace, is a royal palace located in northern Seoul, South Korea. First constructed in 1394 and reconstructed in 1867, it was the main and largest palace of the Five Grand Palaces built by the Joseon Dynasty. The name of the palace, Gyeongbokgung, translates in English as "Palace Greatly Blessed by Heaven."
Heavily destroyed by the Japanese government in the early 20th century, the palace complex is slowly being restored to its original form prior the destruction. As of 2009, roughly 40 percent of the original number of palace buildings still stand or are being reconstructed.
Sajeongjeon (Hangul: 사정전; Hanja: 思政殿), also called Sajeongjeon Hall, is a building used as the main executive office by the king during the Joseon Dynasty. Located behind Geunjeongjeon Hall, the king carried out his executive duties and held meetings with the top government officials in Sajeongjeon. Two separate executive buildings named Cheonchujeon (Hangul: 천추전; Hanja: 千秋殿) and Manchunjeon (Hangul: 만춘전; Hanja: 萬春殿) flank the west and east of Sajeongjeon, and while Sajeongjeon is not equipped with a heat system, these buildings are equipped with Ondols for their use in the colder months.
Description taken from Wikipedia article on Gyeongbokgung.