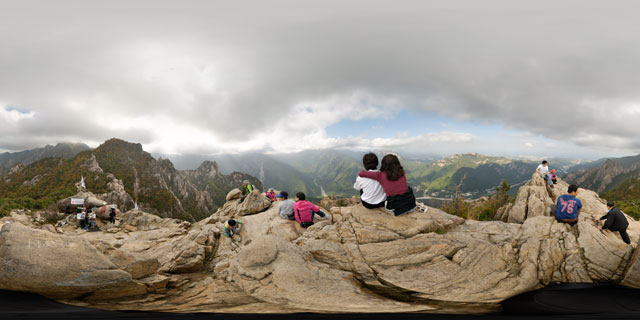 Click button below to view 360° VR interactive panorama
SD Standard definition suitable for users with slow internet connections or mobile devices or HD High definition suitable for users with fast internet connections
360° VR panorama of tourists enjoying the view from the top of Gwongeumseong (권금성), on Mount Sorak (설악산), in Seoraksan National Park (설악산국립공원), South Korea. Down in the valley below can be seen the dry riverbed, the main visitor area of Seoraksan National Park, and Sinheungsa temple.
North of the park's main visitor area can be seen the peak of Dalmabong (달마봉), while to the south can be seen more peaks of Soraksan. In the small rocky area below is kept mountain rescue equipment and a small counter, where you can purchase a medal from one of the mountain rescue team members to show you've climbed to the top of Gwongeumseong.
From Wikipedia:
The nature reserve protects an area of 163.6 square kilometers and contains many notable high peaks measuring over 1,200 meters above sea level including the highest peak of Soraksan, Daecheongbong, which has an altitude of 1,708 meters. The nature reserve contains mountain ranges of dissected granite and gneiss and is characterized by spectacular rocky hills and ridges. The magnificent natural beauty of Soraksan and the mountain ridges is due to these geographical features.