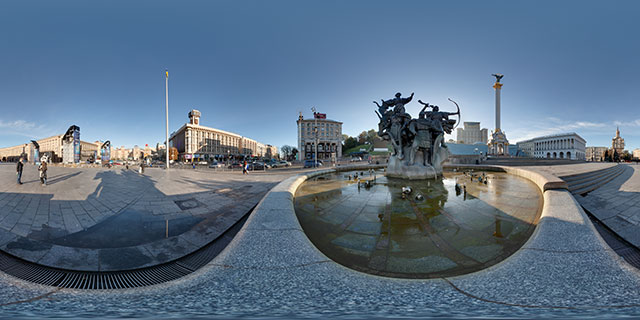 Click button below to view 360° VR interactive panorama
SD Standard definition suitable for users with slow internet connections or mobile devices or HD High definition suitable for users with fast internet connections
360° VR panorama next to the Founders monument fountain in Independence Square, Kyiv. The monument depicts the legendary founders of Kyiv – brothers Kyi (Кий), Schek (Щек), Horeb (Хорив), and their sister Lybid (Либідь). It was built as part of an overhaul of the square in 2001.
To the right and behind is a tall column, also added as part of the rennovation, celebrating the 10th year of Ukraine's Independence. The column is topped with a sculpture of a Berehynia, a female spirit in Slavic mythology.
Notable buildings nearby are the Kiev Conservatory (Консерваторія), with its white columns, to the south; the Central Post Office (Головпоштамт), to the west; and the House of Trade Unions (Будинок спілок Федерації професійних спілок України), to the north-west.