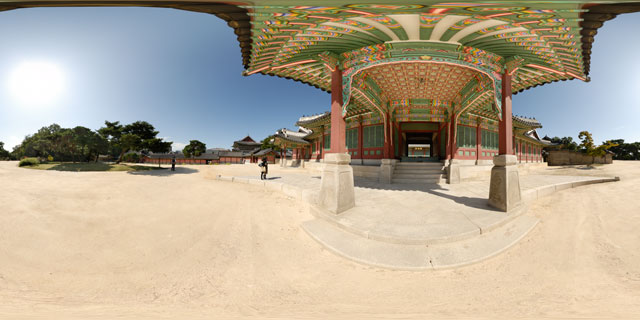 Click button below to view 360° VR interactive panorama
SD Standard definition suitable for users with slow internet connections or mobile devices or HD High definition suitable for users with fast internet connections
360° VR panorama outside the front gate of Huijeongdang, in Changdeokgung palace, Seoul, South Korea. Huijeongdang was originally the king's bed chamber, but was later used as the king's main adminstrative office. The building was destroyed by fire in 1917, and was then rebuilt, but in a style quite different to the original building. The front porch is built so as to enable a cart or car to park underneath it.
Changdeokgung was a royal palace built during the Joseon dynasty by King Taejong in 1405. In 1997 the palace was designated a UNESCO World Heritage site.