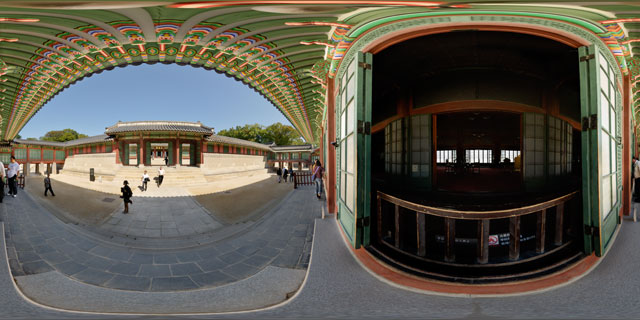 Click button below to view 360° VR interactive panorama
SD Standard definition suitable for users with slow internet connections or mobile devices or HD High definition suitable for users with fast internet connections
360° VR panorama at the back of Huijeongdang, in Changdeokgung palace, Seoul, South Korea. Huijeongdang was originally the king's bed chamber, but was later used as the king's main adminstrative office. The building was destroyed by fire in 1917, and was then rebuilt, but in a style quite different to the original building.
The original Huijeongdang had a stone floor set on stone pillars and a pond in the courtyard, while the new building has a wooden floor and many other western features such as carpets, glass windows, and chandeliers. To the north of Huijeongdang is Seonpyeongmun gate, which leads to Daejojeon, the queen's residence.