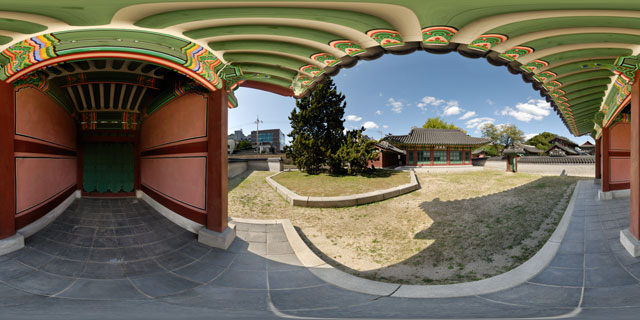 Click button below to view 360° VR interactive panorama
SD Standard definition suitable for users with slow internet connections or mobile devices or HD High definition suitable for users with fast internet connections
360° VR panorama of Unhanmun and Bongmodang, in Changdeokgung palace, Seoul, South Korea. Although most government buildings were located outside of the palace, those closely involved with the royal household's affairs were built on the palace grounds. They were located in the west of the palace, and collectively known as Gwolnaegaksa. Unhanmun and Bongmodang are in the north-west of this area.
Unhanmun is a large gate (closed in this photo), while Bongmodang was the Hall of Upholding the Policies of Former Kings, where documents relating to the former rulers of the Joseon dynasty were kept. To the left of Bongmodang is Chaekgo, a library building where books were stored.
The large tree is a Chinese Juniper, thought to be around 750 years old. Juniper wood was used to make incense which was used in ancenstral rites at the nearby Seonwonjeon shrine.