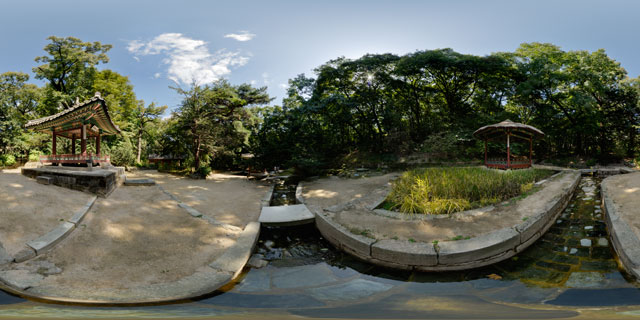 Click button below to view 360° VR interactive panorama
SD Standard definition suitable for users with slow internet connections or mobile devices or HD High definition suitable for users with fast internet connections
360° VR panorama of Ongnyucheon, Taegeukjeong, and Cheonguijeong, in the rear garden of Changdeokgung palace, Seoul, South Korea. The Ongnyucheon area was a place where the king would sometimes hold parties. Wine cups would be floated down the stream, and then the recipient would have to drink the wine and compose an impromptu poem.
Around the stream are located small open pavilions allowing the viewer to enjoy the garden from any direction. Taegeukjeong pavilion symbolizes the state of perfect harmony, with yin and yang in balance. Cheonguijeong is the only existing thatched pavilion left in the grounds of Changdeokgung. In front of it is a small rice field, the king would farm rice to aid his understanding of the hard work of farmers and show his solidarity with the farmers. The dried rice plants would be used to thatch Cheonguijeong.