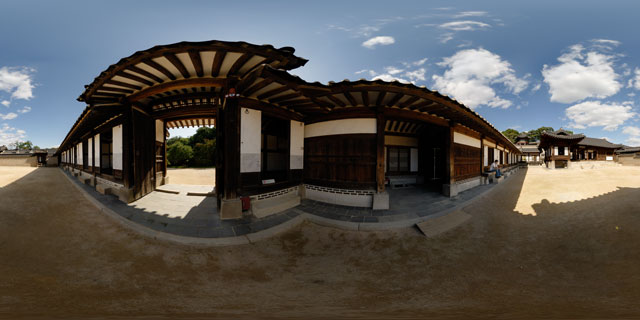 Click button below to view 360° VR interactive panorama
SD Standard definition suitable for users with slow internet connections or mobile devices or HD High definition suitable for users with fast internet connections
360° VR panorama in the south-west corner of the Nakseonjae complex of Changdeokgung palace, in Seoul, South Korea. Nakseonjae was originally built in 1847 as a library and living quarters for King Heonjong. Reflecting King Heonjong's sense of style, Nakseonjae lacks the colourful Dancheong painting that decorates the majority of palace buildings.
During the Japanese occupation of Korea the buildings and walls surrounding Nakseonjae were removed. As part of a restoration project started in 1991 to restore Changdeokgung to its original state, Nakseonjae was restored in 1996.